Mobile Billing & Premium-SMS Connectivity
Estonia, Latvia, Lithuania

Preferred SMS-connectivity and billing partner in the Baltics
Mobi Solutions is a preferred SMS-connectivity partner for over 100 different service and content providers from within the region and abroad.
Mobi SMS-gateway eliminates this costly and time-consuming process of having to negotiate and integrate with 9 different mobile operators. By providing
fast, reliable
and
cost-efficient
connectivity, we allow the content provider to focus on the content, delivering them a
payout
each month.
Estonia, Latvia, Lithuania

Estonia, Latvia and Lithuania (commonly referred to as the Baltic countries) are known for their high level of ICT development, friendly business environment and almost ubiquitous mobile phone usage. There are 7 million people living in the Baltics and about 95% of them use mobile phones for calling and texting.
There are total of 9 mobile operators (3 in each country) in the Baltics. Market leaders in each country (EMT, LMT and Omnitel) are partly owned by TeliaSonera. TELE2 has a fully-owned subsidiary in each of the 3 countries and Bite is operating in Lithuania and Latvia. In Estonia, the third operator is Elisa.
Direct connection to all mobile operators

Mobi Solutions, being the most experienced mobile gateway operator in the Baltics, has direct connectivity to
all the mobile operators
in Estonia, Latvia, Lithuania.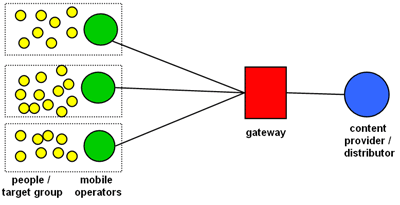 Unlike companies who provide SMS-connectivity, but to whom this is just a side activity of their more lucrative mobile content business, we are giving our customers full support and no competition.
Due to volumes, we might be able to provide our partners equal or better payout than they would get from the mobile operator. Partner' s revenue sharing can be up to
55-65%
of the end-user price.
Tariffs on shared and dedicated shortcodes

Mobi has licensed a number of short codes from government and mobile operators that are available as on a shared shortcode basis, with tariffs ranging from 0.25 - 5 EUR. In additon, we can assist customers in applying for and getting their own dedicated shortcodes.
Subscription services
All the operators in the Baltics support MT-billing and subscription-services. Some of them require per-service approval, whereas others have more liberal service activation policy. Ask details from your account manager of contacts below.
Features of Mobi SMS-connectivity:
Access to all 7 million Baltic mobile phone users
Use of premium tariffs up to 5 EUR.
Revenue sharing up to 55-65% of the end user price
Simple HTTP interface (download the specification)
Secure SSL connections between service and gateway
Up to 3 reply messages (or a long message) with no extra cost
Online statistics & complete monthly reports about the usage
How to start?
1. Contact us by e-mail & get a proposal in 48 hours

In the e-mail, along with the short description of your service, please detail which countries you are interested in, which end-user prices, unique or shared shorcode and whether you are planning to offer subscription-based services or not. We reply with a proposal within 48 hours.
3. Signing a contract & demo account

Upon signing the contract, we immediately create a demo account for you so you can start implementing the connection and test the service.
4. Going live!
In some cases (MT-billing & subscription services), we will submit your service to the approval to the operators, which can take about a week. In case of unique short-codes, licencing one from authorities (in Estonia) or operators (in Latvia and Lithuania) can take 1-3 weeks. In
most cases
, however, you are good to go just in
few days
!
More info?
For more information on revenue sharing and conditions in
Estonia, Latvia and Lithuania
, please contact
Marcis Jurisons
and
Siim Saksing:
sales@mobisolutions.com