M-government & m-city
Extending the reach of e-government

Applications for m-government
Report issues regarding your municipalities
Munizapp is a fully integrated solution for citizens to report their opinions and problems to the municipality where they reside. It is also possible to receive feedback on reports through the app and still remain completely anonymous. In the list of reported issues it is possible to see the statuses of reported issues by both your own and others. For your own reported issues the complete log of replies and actions taken by the municipality is visible.

Applications for Tourists
Mobi has developed Tourist application engine, which allows users to visit local town and find interesting routes and sights. We have launched the application in Finland (Turku) and Estonia (Tallinn) municipalities.
Download application to test-drive experience:
Application for Citizen
Mobi has worked with Tartu (Estonia) City Government to deliver first class extendable application to include number of services important for local municipality level.
Read more about project:
Tartu
Implementing custom projects
1. Get in touch and set up a call or a meeting
Each m-government project is different. To clarify the goals, needs and requirements, either a face-to-face or over phone / e-mail discussion is the first logical step.
2. Study or a pilot project?
Depending on the level of readiness and previous experience with m-services of a city or national government agency, either a feasibility study or a pilot project is recommended.
3. Implementation!
After a 3 - 6 month pilot project, analysis is conducted. If the pilot project has proven to be successful, more wide-spread implementation of the service is recommended.
Get in touch!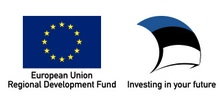 Mobi's M-government initiative has been co-financed by European Union Regional Development Fund in the sum of 95 895,04 Euros. The project was active from
01.04.2009 to 31.10.2010.
Within the project Mobi has researched different M-government solutions found in the World, analyzed possibilites of implementing services, generated roadmap of services and technologies and developed information system for M-government notification and information services. You can find the public version of the final research
here
.
Contact
For more information or a quote, please contact:
veiko.raime@mobisolutions.com